Analele Universităţii din Craiova. Seria Științe filologice. Langues et Littératures Romanes
About us   Advisory board   Editorial board   Francais
Call for papers   Author guideliness   Copyright notice   Online access
Founded in 1997, the Analele Universității din Craiova. Seria Științe filologice. Langues et Littératures Romanes [Annals of the University of Craiova. Series Romance Languages and Literatures] falls in the category of publications intended for internal and international exchanges. A journal of French and Francophone language and literature, it brings together the research papers of academics and researchers from all over the world, the areas of interest being Romance languages, Romance and Francophone literatures and civilizations, French language teaching methodology and translation studies.
Published by the Universitaria Publishing House, University of Craiova (Romania), ISSN 1224-8150 / / ISSN-L 1224-8150, it first appeared under the name Studies of Linguistics and Literature, subsequently extending the topics and contributors, so that today it proposes distinct thematic areas, Miscellanea and a section dedicated to book reviews.
The submitted papers undergo a double-blind review procedure, being evaluated by an international scientific committee, made up of independent scholars whose expertise in the field is widely recognized. After receiving the results of the evaluation, the authors have three weeks at their disposal to consider the suggestions / recommendations of the reviewers. The journal is published once a year, more precisely, in the first semester of each year. The final version must be sent to the e-mail address of the journal no later than 30 November of each year.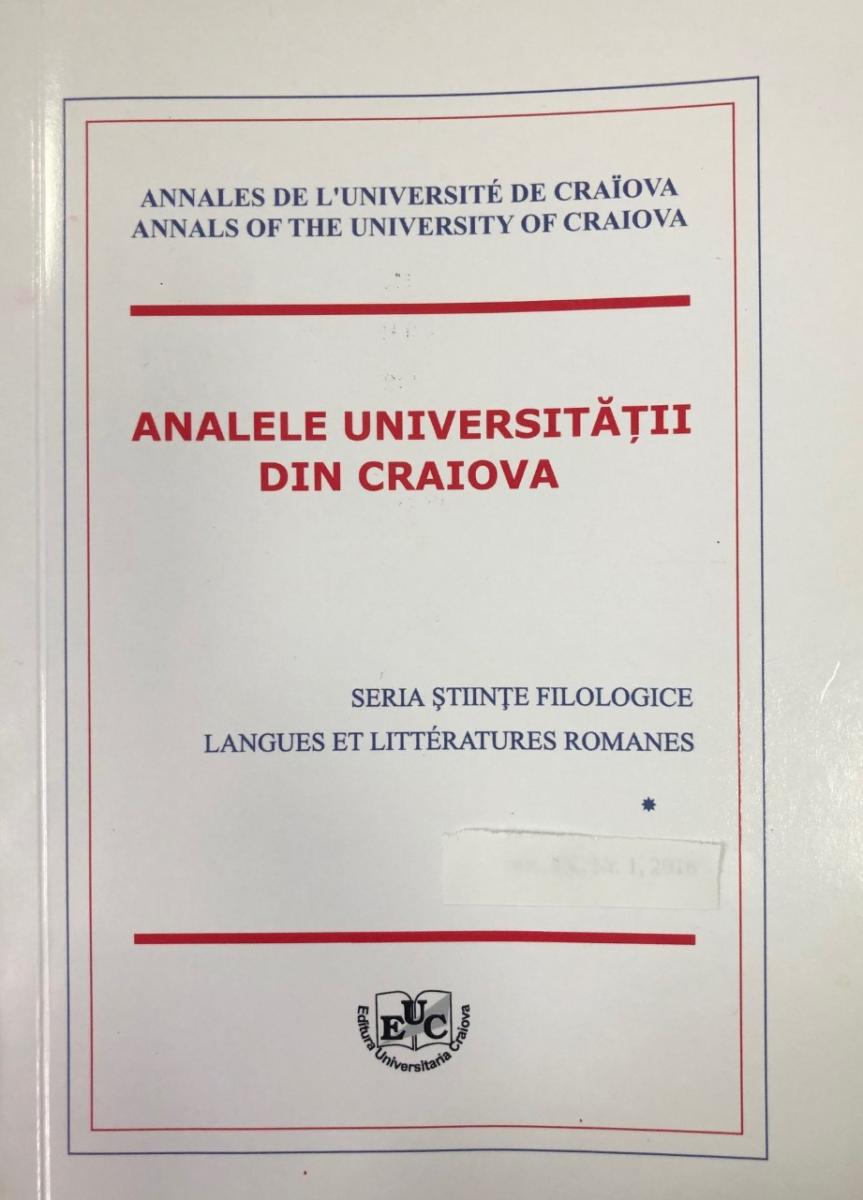 JOURNAL WEBSITE
http://litere.ucv.ro/litere/node/131
UNIVERSITARIA PUBLISHING HOUSE ADDRESS
str. A. I. Cuza, Nr. 13, Craiova, 200585, ROMÂNIA
JOURNAL EMAIL
annales.langues.romanes@gmail.com
INTERNATIONAL VISIBILITY
Journal type: scientific
CNCSIS CODE: 12
Class: B
Indexation
The journal is covered by the following national and international databases:
http://www.fabula.org/actualites/analele-universitatii-din-craiova-seria-stiinte-filologice-2010-1-langues-et-litteratures-romanes_41193.php
http://www.scipio.ro/web/annals-of-the-university-of-craiova.-series-philology-romance-languages-and-literatures
http://linguistlist.org/pubs/journals/get-journals.cfm?JournalID=17280
https://dbh.nsd.uib.no/publiseringskanaler/erihplus/search.action?xs=1224-8150&epd=-1&tv=true
https://www.ceeol.com/search/journal-detail?id=1703
CONTACT PERSONS
Anda RĂDULESCU : andaradul@gmail.com
Valentina RĂDULESCU : valentfalan@gmail.com
Camelia MANOLESCU : cameliamanolescu@yahoo.com
Daniela DINCĂ : danadinca@yahoo.fr