Shakespeare Corner of the University of Craiova, the first of its kind in Romania, was made possible by the joint effort between the Shakespeare Institute of the University of Birmingham, the Department of British, American and German Studies of the University of Craiova and the Library of the University of Craiova. The official opening took place on the 29th of April 2014, after the ceremony of awarding the title of Doctor Honoris Causa of the University of Craiova to Professor Michael Dobson, director of the Shakespeare Institute, University of Birmingham. The event was also honoured by the presence of Emeritus Professor Sir Stanley Wells, the greatest Shakespearean expert alive and General Editor of The Complete Oxford Shakespeare.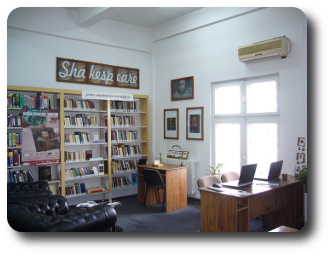 The library stock is highly valuable as it comprises over 200 books on Shakespeare, which were generously donated by Professor Michael Dobson, together with the already existent collections held by the library of the Faculty of Letters and the English Lab.
Shakespeare Corner, housed in the Library of the University of Craiova, is aimed at everyone who is fond of William Shakespeare's plays and sonnets, being of great use to the students, teaching academics and researchers in the field. It also represents the culmination of the close cooperation between the University of Craiova and "Marin Sorescu" National Theatre in Craiova, the main organizer of the prestigious Craiova International Shakespeare Festival.